Download
Binary:
• smfe.exe [2.8MB] or smfe12.rar [0.8Mb] Version 0.12, (26/Jun/2005), tested with MAME 0.97b
• you may optionally get smfe_data.rar [0.9MB] if you have trouble creating your own.
Info:
• No installation needed, just run smfe.exe. You must also have mame.exe (or mamepp.exe).
• Check "Help->Getting Started" on how to read game data et.c
• You can sort the table by multiple columns with shift+clicking on their headers
• smfe creates smfe_data.dat which contains all displayed table information, and smfe.ini which contains saved options
• You must remove the old .dat file when you change smfe versions
• If mame.exe can find MAMEINFO.dat, it will use it and smfe will display recommended games.
Sources:
You can get the sources (v0.9) smfe09-src.rar. To compile it you will need Borland C++ Builder, Russian Extensions (RX), ADVStringGrid.

Misc:
A shell script (for unix) getrom to download a rom from www.mame.dk. Usage: "getrom <romname>". If you don't have the "socket" program, use netcat.Update: www.mame.dk has shut down.

Old Binaries
• smfe11.rar [818Kb] for MAME 0.83
• smfe09.rar [818Kb] Version 0.9, (30/Sep/2004), tested with MAME 0.83
• smfe07.zip version 0.7 (2/Sep/2002), for MAME 0.61
Features
Simple means simple to use (hopefully)!
Configurable image locations
Supports PNG, JPG, TIF, GIF, BMP & .ICO formats
Configurable mame.exe location
Supports network drives & UNC paths (\\hostname\sharename\directory)
Can configure various MAME options for video, audio and input options and directory locations.
Also supports using the mame.ini configuration file

Reads supported MAME games from the MAME executable
Checks for rom existence in the system (fast)
Checks for rom validity (not so fast)
Displays recommended games
Supports nplayers.ini parsing (# of players each game supports)
Supports HISTORY.DAT parsing (various game info)
Saves Table data into file to avoid rerunning time-consuming operations
Can kill the mame executable and change back screen resolution in case MAME hangs up. (Ctrl+K)
Tested only with Windows 2000

Table columns include: ROM name, description, Year, Manufacturer, Clone Info, Played times, Rom Size, Emulated CPU, Game type (raster/vector), Resolution.
Supports multi-column sort (shift+click)
For each game there is additional info displayed which includes recommended games and other game info.
Can export all data in .XLS, .HTML and .TXT formats

Options&paths are saved in smfe.ini, and game info/availability in smfe_data.dat at the same directory as the smfe.exe. It does not use the registry.
Can run from read-only (CDROM/DVDROM) media just generate the .dat file once and place along it with the .exe and .ini
TODO
Record audio in .mp3 format (HELP!)
Display the main form rotated. This can already be done (with the driver options) if you have an nvidia card like GeForce.
Display only available roms in the table. Note: You can sort by the first column and have your available games on top. You can have a second sorting criterion by shift+clicking on the table column.
Mail me for ideas
Screenshot (v0.4)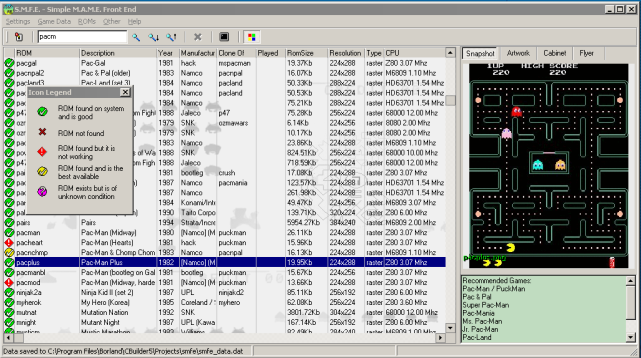 Click image to view the full-size capture.




News
26/Jun/2005:version 0.12. Fixed bugs/typos, changed how verifysets is called, improved (hopefully) menu layout, fixed a bug which prevented games to start after a search for their name was performed.
30/Sep/2004:version 0.9. Now working with mame 0.83, nplayers.ini support + small bug fixes
02/Sep/2002:version 0.7. Fixed bugs with input devices. Thanks to Ric Kalford for the bug report.
23/Jul/2002:version 0.6. 2 new menu options: 1) autosave "played" field is now optional to improve loading times and 2) "save table data now". Fixed "save colun sizes" (hopefully). Added an "Auto fill" button when setting the executable/image/rom paths. Added new column: "Game Category"
18/Jul/2002:version 0.5. bug fixes + support for read-only media + display romset statistics + more debug output in console window
04/Sep/2001:version 0.4. Changed gamelist retrieve timeout + minor bug fixes
04/Sep/2001:Project progress will be delayed until 15 September due to other work.
25/Aug/2001:8402 page hits, 1200 downloads so far! unbelievable!
19/Aug/2001:version 0.3. First public version. Added some confirmation menus + screen resolution restoration code + minor bug fixes
16/Aug/2001:version 0.2. First public SMFE release (with announcement to freshmeat)
09/Aug/2001:Started writing the program.
Links